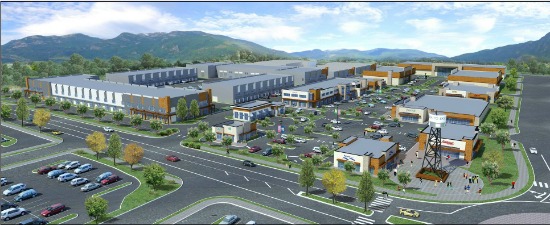 THE WALLS ON BUILDING 2 ARE UP!
Our first building is scheduled to be ready for tenant fixturing July 1, 2015. Key anchors in this near 16,000 square foot building are:
Ground Up Climbing Gym - 8,000 sf Facility
Awesome Arts Academy - Grace Barra Squamish
Mountain Fitness Center - 6,400 sf Fitness Centre
ONLY 1 UNIT REMAINS IN BUILDING 2 OF 2,275 SF!
CONSTRUCTION STARTING ON BUILDING 4 – NOW LEASING
Building 4 totals about 18,000 square feet, comprised of nine industrial spaces of 1,987 square feet each. It is located on the west side of the Business Park with direct frontage on Queens Way, visible from both Squamish Toyota and Sea to Sky Ford ¼ block south.
Preload is being scraped from the site now and foundations are starting in May for a fall building completion. Our key anchor in this building which is 33% leased is:
Airhouse Warehouse – a 6,000 sf indoor trampoline facilty
Only 6 units remain, 2 of which have pending deals.
BUILDING 1 – COMING SOON
Building 1 is a 30-36,000 square foot service retail building fronting Commercial Way. Across the street from west to east are Coastal Ford, Squamish Toyota, Home Depot and Walmart 1 block to the east. Preload is being placed on the site now with pre-leasing starting in Fall of 2015.
RETAIL – COMING SOON
We 2 drive thru locations and several retail buildings across from Home Depot and Walmart that we are seeking anchor deals for now.
Call for more information:
DARREN MCCARTNEY
604-892-4875
www.squamishcommercialproperty.com